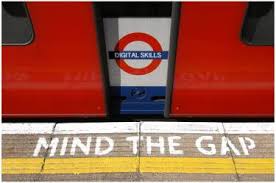 We are going through a digital revolution driven by high-speed internet connectivity, proliferation of mobile devices and growth in user generated content. One of the greatest challenges we face is a lack of knowledge to create technology. The UK is facing a significant skills shortage with 1.4m digital professionals needed over the next five years.
BT's CEO Gavin Patterson said: "We have a paradox in the UK. Young people are surrounded by technology yet so many are not tech literate."
High level technical IT skills was the biggest identified skills gap in The Tech Partnership survey, with 96% of businesses reporting high level technical skills gaps in their workforce. This gap might include anyone from programmers to software developers and web designers. There was a 34% difference identified between the skills companies had in this area and the skills they needed.
Not only is there a huge digital skills gap, but also a huge gender gap in tech. There were 1.18m IT specialists working in the UK in 2014, of which only 17% were women. This compares with a figure of 47% for the workforce as a whole.
The need for digital skills is only going to grow: the Science Council estimates that the ICT workforce alone will grow by 39% by 2030. Even though 71% of children aged 5-15 now have access to a tablet computer at home, but only 4% of 15 year-olds want careers in engineering and computing. Almost half (42%) of all firms recruiting tech specialists reported that some or all of these positions had been hard-to-fill. 85% of hard-to fill positions are difficult to recruit to because of a lack of tech specialist skills.
The arrival of computing on the curriculum in schools shows that the importance of digital skills is being recognised. According to UK Digital Skills Taskforce, we've still got a way to go if we are to create the conditions that will deliver a prosperous future for young people and ultimately the UK. Below are some ways in which the digital skills gap is being tackled:
Programs such as BBC's Make it Digital are bringing the right stakeholders and partners to inspire a new generation to get creative with coding, programming and digital technology. Organisations such as Apps for Good, British Computing Society, Code Club, ComputerScience4Fun, FutureLearn, iDEA, Nesta, National College for Digital Skills, TeenTech, Tech City UK, The Tech Partnership, Tech London Associates, Technology Will Save Us and Young Rewired State are collaborating to develop new initiatives like the ground-breaking Micro Bit and Make it Digital Traineeship, as well as a wide range of other activities.
Showing the diverse role models we have amongst women already in the industry and computer science will inspire more women to join Tech. Rather than talking about the gender gap, it is vital to engage females, whether at school, university, early career or as returners. BCS Women,  Women in Tech Programme by Tech UK and Computer Weekly's 50 Most Influential Women in UK IT 2015 are some ways to highlight the positive things we have going
Wearedotdotdot and Code.org are two platforms that provide an online directory of digital learning programmes and resources that develop digital skills and help people access jobs in Tech City.
What are some  of the other resources or organisations that are working on addressing the digital skills gap?