Joysy has been featured in The Financial Times, The Telegraph, The Evening Standard, TES, BBC, Schools Week, FE News, The Straits Times, The Guardian, Computer Weekly, Information Age, Schools Week, Vita Europe, among others.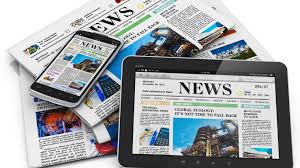 NTU Alumni News National accolade for alumna bridging the digital skills gap in the UK, Oct 2023
The Gazette Member of the Order of the British Empire awarded to Joysy John, 17 Jun 2023
Kerala Link Malayalee Joysy John awarded MBE, Issue 325, Jun 2023
Manorama Thrissur native, Joysy John, awarded Order of the British Empire, 20 Jun 2023
Mangalam Joysy John, native from Thrissur Honoured with MBE, 19 Jun 2023
Deepika Thrissur native, Joysy John Honoured with MBE, 27 Jun 2023
UK Malayalee Two Keralites in UK included in King Charles III's first birthday Honours List, 21 Jun 2023
Book: InnovateHERs Why Purpose-Driven Entrepreneurial Women Rise to the Top by Bobbi Khurshan and Kathy Hurley Chapter 8 featured my story
Authority Magazine Inspirational Women in STEM and Tech: Joysy John of 01Founders On The 5 Leadership Lessons She Learned From Her Experience, 21 Dec 2021
Harvey Nash Group Education is failing to plug the digital skills gap. How can we help students into the sector? 17 Dec 2021
The Times Magazine,  Tech is a great enabler of levelling up, 11 Dec 2021
The Times, Arts degree is no barrier to a career in technology, 10 Dec 2021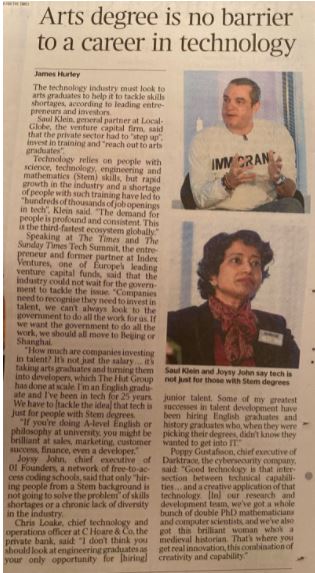 TechRound, Meet Joysy John, CEO at Coding School: 01 Founders, 6 Dec 2021
TechRound, 01 Founders ranked 23 among Top 100 startups in tech, 24 Nov 2021
FE News, The gap between the skills people need to thrive and the education and careers opportunities available to them, Nov 2021
The National News, Coding and AI jobs: How do we get more girls into tech? Sep 2021
Eastern Eye, 01 Founders launches tuition-free on-campus coding schools, Jun 2021
Eastern Eye, What we can do to fix the diversity in tech challenge, Jun 2021
The Evening Standard – 01 Founders: Free coding school offering guaranteed jobs at top tech firms launches in London, Jun 2021
CityA.M. – Free coding school 01 Founders launches in London with tech job guarantee, Jun 2021
Schools Week – Pearson launches 'major' consultation into the future of exams amid calls for end to GCSEs, Feb 2021
Computer Weekly – The UK's struggle with digital schooling, Jan 2021
Future Learning Design podcast – On Innovating to Close the Disadvantage Gap, Dec 2020
Nesta – Programme launched to help EdTech platforms meet the needs of the UK's most disadvantaged students, as data reveals lockdown learning patterns, Oct 2020
Womanthology – Education Evolution podcast, Sep 2020
WISE – Creating a Better Future Through Equality in Education, Aug 2020
Diplomatic Courier – Education Reimagined: Using the Crisis to Reimagine Educational Systems and Practices, Aug 2020
North Yorkshire Education Services – NYES and edtech company Pobble join forces to help raise standards in writing in North Yorkshire, Jun 2020
BBC World Service – Digital Planet – Testing Edtech, May 2020
BBC Radio 4- The Learning Revolution – Knowing (Episode 1), Apr 2020
The Economist Intelligence Unit Podcast- Digital Economy, Digital Skills, Dec 2019
German Podcast about Future of School, Dec 2019
Digital Leaders, How can we improve the image of tech for women, Dec 2019
The Hechinger Report, UK to test 'Edtech testbeds' in real classrooms, Dec 2019
The Financial Times, 100 BAME leaders influencing the tech sector, Nov 2019
Education Technology, Nesta and DfE announce edtech scale-up funding recipients, Nov 2019
Schools Week – Just 3% of EdTech Innovation funding goes to resolving timetabling issues, Nov 2019
FE News, Teacher workload slashed by five hours a week over past three years, Oct 2019
Mirage News,  Teacher workload cut by five hours a week over past three years, Oct 2019
Nesta – Precarious to Prepared, Oct 2019
Edtech Podcast, The Ties that Bind, Sep 2019
Analytics insights, Gender Diversity Issues in AI, Sep 2019
El Mercurio, La falta de mujeres en áreas técnicas ligadas a la industria podría empeorar en el futuro, Aug 2019
The Conversation, AI is in danger of becoming too male – new research, Aug 2019
Telegraph, UK AI gender diversity is in 'crisis' as number of female scientists drops, Jul 2019
Times Higher Education, Gender equality in AI research going backwards, study finds, Jul 2019
EdTechnology, Nesta embarks on first stage of £4.6m edtech investment scheme, Jul 2019
TES, Edtech innovators urged to bid for DfE money, Jun 2019
FE News, Joysy John discusses the role of #AI in the #FutureofEducation, Jun 2019
GovTech Leaders – – Expert Group launched with £4.6 million investment in EdTech, Jun 2019
The E-Assessment Association – Expert Group launched with £4.6 million investment in EdTech, Jun 2019
Media Taylor – DfE's new Edtech Leadership Group and how to prevent groundhog day, Jun 2019
Mirage News, Expert Group launched with £4.6 million investment in EdTech, Jun 2019
FE News, The #EdTech Leadership Group launched with £4.6 million investment, Jun 2019
Department for Education, EdTech Strategy marks 'new era' for schools, Apr 2019
FE News, Top 3 Barriers For Learners Thriving In The #FutureofWork And 3 Ways To Overcome Them, Mar 2019
The Telegraph, Artificial intelligence has a gender problem. Meet the pioneering women on a mission to fix it, Mar 2019
TES, Why every school should have an escape room, Nov 2018
UK Parliament, Oral evidence for the Fourth Industrial Revolution, watch here. Oct 2018
BBC News, Robot 'talks' to MPs about future of AI in the classroom, Oct 2018
Irish News, Belfast Summit urges leaders to future proof their business, Oct 2018
Schools Week, New GovTech Catalyst unit to help with teacher workload, Nov 2017
Computer Weekly The 50 most influential women in UK IT event, Oct 2017
Tech London Advocates interview for the Diversity in Tech manifesto, Oct 2016
Tech City News on the TLA Diversity in Tech challenges and way forward, Oct 2016
Wales Online on the finalist for the 16th Asian Achievers Awards,Sep 2016
The Asian Today announces the 16th Asian Achievers Awards, Sep 2016
Asian Voice announces the finalists for the 16th Asian Achievers Awards, Sep 2016
The shortlist for the #AAA16 Woman of the Year include @ManjitGill, @joysyj, Manjit Wolstenholme and @RupalKantaria pic.twitter.com/Qn1UUyQQSN

— AsianAchieversAwards (@AsianAchievers) September 15, 2016
Computer Weekly coverage of Investment2020 event at Henderson on Why Build a Technology Career Through Apprenticeships, Apr 2016
Information Age coverage of Women in IT Awards and Tomorrow's Tech Leaders Today event, Feb 2016
Contracts IT coverage of Tomorrows Tech Leaders Today Career event, Jan 2016
The Tech Partnership (previously e-Skills) interview to inspire more women in software development, 2013
ProFellow interview on how to get Forte Scholarship, Jul 2012
Forte Foundation Virtual Career Lab to inspire other women to apply for Forte Scholarship for their MBA, Jul 2012
Interview by Vita on the launch of Startup Leadership Program in London, Mar 2012.
Profiled on Hub Westminster as change maker in education, Mar 2012
Interview by Business Zone at the Startup Games 2012 on what inspires entrepreneurs to stay committed to achieving success, Aug 2012
Geek Girl blog about Founders Fit Ideate and Prototype for Charities event, Nov 2012
Entrepreneur First blogs about Founders Fit event for their first cohort, Jul 2012
Oxygen Startups blogs about Founders Fit pilot launch, Apr 2012
Interview by The Guardian at the Women's Forum in Deauville, Oct 2007
Launch of Financial Women's Association in Streats (now TODAY), Dec 2002
The Straits Times cover the launch of Students Initiative for Technopreneurship (SIFT). First national coverage in Singapore national paper, 1999